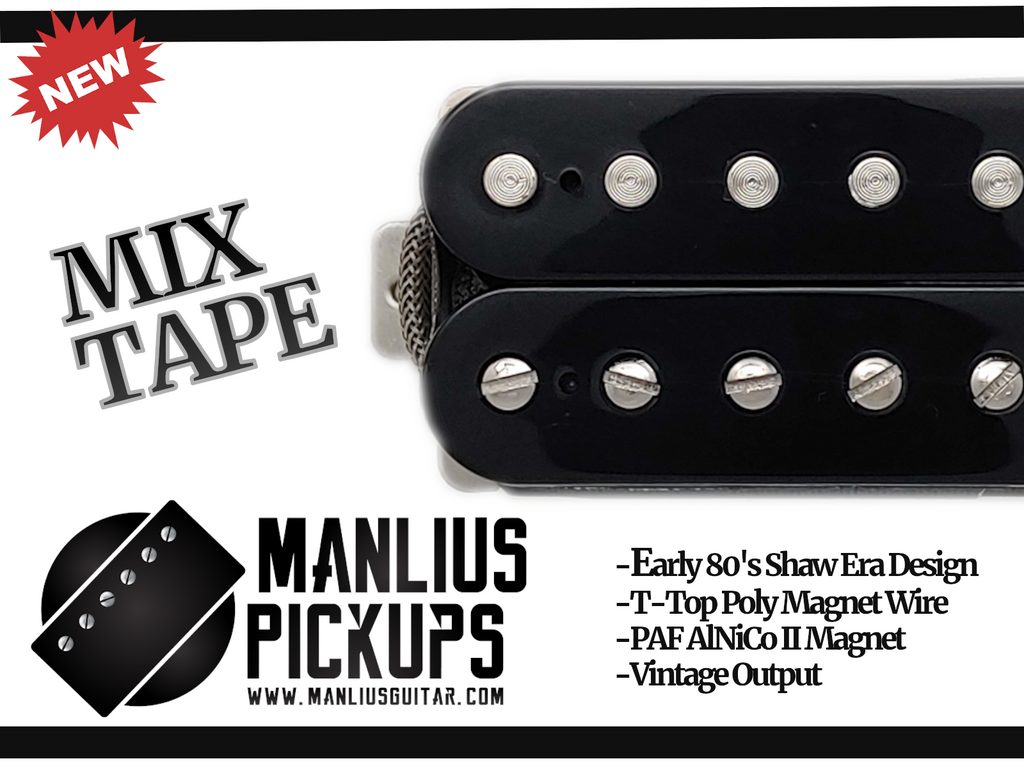 Mixtape
All Pickups Custom Built To Order


Estimated to ship between -
Domestic Orders Ship Free via Priority
Early 80's Heritage Spec Reproductions
The early 80's saw some of the first reproduction PAF style pickup come to market, with Greco offering Dry Z model pickups in higher end LP copies out of Japan and Gibson offering Tim Shaw designed reproduction pickups for various Heritage models as the T-Top was slowly transitioned out.  The Mixtape is a reinterpretation of these first run reproductions.
Built with a blend of PAF and T-Top materials: PAF style long bar AlNiCo II magnets and PAF type outputs coupled with era abundant T-Top style SPN magnet wire.  The final tone profile is a bit of T-Top bite with classic PAF dynamics.  
Punchy top end with great overall dynamics and a classic vintage versatility, the Mixtape captures a nascent era of vintage reproductions.
Built by hand in Syracuse NY, the Mixtape features classic Manlius design elements, including hand scatter-winding, american sourced magnets, vintage steel alloy parts, universal depth base-plate legs, maple spacers, and light wax potting for consistent performance.
General Specs

Baseplates - pure nickel silver with universal depth legs
Magnets - AlNiCo II Rough Long Bar
Wire - Vintage SPN
Covers - pure nickel silver, plated or unplated, if desired
Bobbins - high sheen and field polished, various colors
Spacing - Standard and wide F spacing available on all models
Conductor - vintage braid two conductor or low impedance 4 conductor
Winding - scatter-wound with mismatched vintage style  coils
Aging - available at no additional cost
DC 7.5k neck ; 8.0k bridge