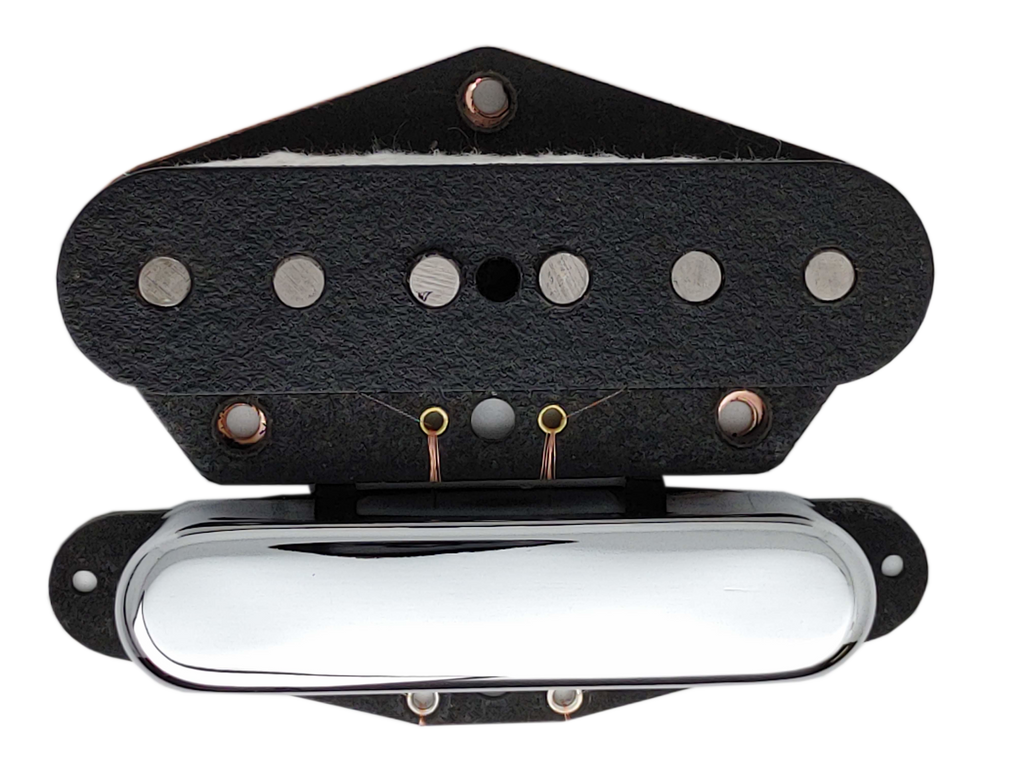 Broadcaster
All Pickups Custom Built To Order


Estimated to ship between -
Domestic Orders Ship Free via Priority
Early Blackguard Tone For Days
The Broadcaster offers aggressive, yet smooth, early Blackguard tone with strong output and warm AlNiCo 3 magnets.  Based off of the earliest Tele style pickups, the Broadcaster replacement set offers a warmer mid range, chunky but tight low end, and smooth top end with ample cut. Very well balanced with great versatility.  The Broadcaster bridge output is strong enough to push most any setups and offers a balanced mid response along with nice top end bite.  Chunky neck tones aplenty with the Lipstick covered AlNiCo 3 design.   Strong enough mid's to hang with the humbucker boys coupled with a brash enough top end to leave them playing chords in your tracks.
Built by hand in Syracuse NY, the 56T-WG features classic Manlius design elements, including hand scatter-winding, american sourced magnets, vintage push back wiring, copper clad steel baseplate on the bridge, and light wax potting for consistent performance.

Available in all Chrome, Satin Nickel, and Gold neck covers.  Available with White string wrap standard, Black, red, and Black/White available upon request.  
 General Specs

Baseplates -  steel
Magnets - AlNiCo III
Wire - vintage spec, varied gauges
Covers - vintage chrome plated brass, satin nickel, vintage gold plated brass
Bobbins - vulcanize fiber, black dye, lacquered finish
Spacing - Standard 
Conductor - Push back, RWRP available
Winding - hand scatter-wound 
Wrap - white, black, black/white, red
Aging - available at no additional cost
DC 7.6k neck ; 11.3k bridge